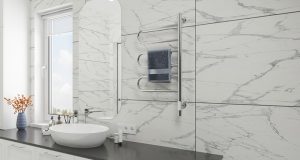 The electric towel dryer should be mounted in the bathroom in full compliance with the electrical safety precautions for wet areas. The device can be connected to a permanently mounted socket or it can be connected to the power supply network via a concealed connection module.
Prior to installation of electric heated towel rail, make sure that the wall has an adequate strength in the mounting location chosen for product mounting.
For a connection of electric heated towel rails, it is required a separate weatherproof socket with a special supply cable section not less than 2.5 sq. mm. from a separate breaker in the electric panel and a good ground to eliminate shock hazards.